University Way NE, colloquially
The Ave
(no period), is the commercial heart of the University District and the off-campus extension of the University of Washington (UW) in Seattle. Once "a department store eight blocks long,"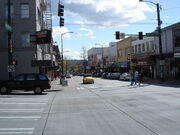 The Ave has gradually turned into what now resembles an eight-block-long global food court. The story of The Ave reflects the dynamics of many urban neighborhoods and the social and economic problems of countless American cities, though it is also a crossroads of diverse subcultures. It is patronized by many of the nearly 96,900 students, faculty, and staff of the UW; by the largely white and middle class residents of the U. District; and by a population of homeless or transient individuals, most of whom are youth.
Read the full article on Wikipedia .
Ad blocker interference detected!
Wikia is a free-to-use site that makes money from advertising. We have a modified experience for viewers using ad blockers

Wikia is not accessible if you've made further modifications. Remove the custom ad blocker rule(s) and the page will load as expected.