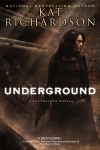 Underground
Edit
Pioneer Square's homeless are turning up dead and mutilated, and zombies have been seen roaming the underground--the city buried beneath modern Seattle. When Harper's friend Quinton believes he may be implicated in the deaths, he persuades her to investigate. But the killer is no mere murderer--it is a creature of ancient legend. And Harper must deal with both the living and the dead to stop the monster and its master...unless they stop her first.
Availability Information
Edit
Mass Market Paperback: 368 pages
Publisher: Roc; Reprint edition (August 4, 2009)
Language: English
ISBN-10: 0451462831
ISBN-13: 978-0451462831
Product Dimensions: 6.8 x 4.1 x 1.2 inches
"The best single novel in this category I've read so far this year." -Don D'Ammassa, Critical Mass
"A fast paced, edge of your seat fantasy adventure with many surprises and some new wrinkles in this fast growing sub-genre. If you get a kick out of things that go bump into the night, this book is just your ticket. Get it punched now." -Ron Fortier Pulp Fiction Reviews
"Richardson crafts a creepy and downright scary supernatural thriller." -Romantic Times
"Part Indian folklore, part detailed urban history, part PI procedural, part monster-from-the-depths horror story." -Booklist
"Following in the tradition of Tanya Huff and Jim Butcher, this is a strong addition to the growing body of urban fantasy mysteries." -Library Journal
Ad blocker interference detected!
Wikia is a free-to-use site that makes money from advertising. We have a modified experience for viewers using ad blockers

Wikia is not accessible if you've made further modifications. Remove the custom ad blocker rule(s) and the page will load as expected.