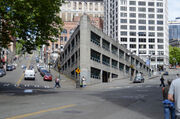 The parking garage at the corner of James Street and Yesler Way in Seattle, Washington, is where Harper Blaine parks her car. Due to its unique shape and the topography of the roads surrounding the lot, it is known to locals as the "Sinking Ship" garage.
Kat Richardson explains the parking garage in chapter 12 of her Yodio recording of Greywalker locations in Seattle.
Ad blocker interference detected!
Wikia is a free-to-use site that makes money from advertising. We have a modified experience for viewers using ad blockers

Wikia is not accessible if you've made further modifications. Remove the custom ad blocker rule(s) and the page will load as expected.