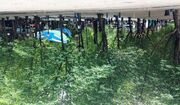 Occidental Park, also referred to as Occidental Square (north of S. Main Street) and Occidental Mall (south of S. Main Street), is a 0.6 acre (2,400 m²) public park located in the Pioneer Square district of Seattle, Washington. Created in 1971, it essentially consists of the Occidental Avenue S. right-of-way between S. Washington and S. Jackson Streets, plus half a city block between S. Main and S. Jackson Streets. The Seattle Waterfront Streetcar bisects it, running along S. Main Street. The park is in the heart of Seattle's largest art gallery district, and several galleries face onto Occidental Mall.
Read more on http://en.wikipedia.org/wiki/Occidental_Park_(Seattle).
Underground
Edit
Occidental Park is the site of several scenes in Underground, including the finding of a dead body and the final showdown with with Sisiutl.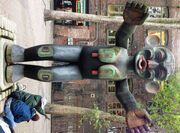 Several pieces of Native American art are located in the park along with a more modern piece of art commemorating the firemen and women who lost their lives protecting Seattle from fire.

Tsonqua, the nightmare bringer and child-eating ogress, is the female on the left. In Underground, Tsonqua herself sleeps as a homeless woman under the statue.
Bear is the statue across from Tsonqua (the image to the right). Bear also appeared in Underground. Both Bear and Tsonqua were carved by Duane Pasco in 1975.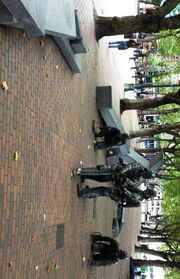 The
Fallen Firemen's Memorial
is a bronze and granite sculpture also in Occidental Park. It is a tribute to the men and women who have died saving Seattle from fire. Artist Hai Ying Wu created this tribute in 1998.