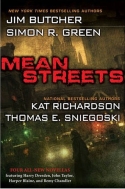 Mean Streets
Edit
A collection of four all-new novellas featuring paranormal P.I.s from the current masters of the genre: New York Times bestselling authors Jim Butcher and Simon R. Green and National bestselling authors Thomas E. Sniegoski and Kat Richardson. This collection features the Greywalker novella The Third Death of the Little Clay Dog'.
Availability Information
Edit
Paperback: 368 pages
Publisher: Roc Trade (January 6, 2009)
Language: English
ISBN-10: 0451462491
ISBN-13: 978-0451462497
Product Dimensions: 9 x 5.9 x 0.9 inches
Ad blocker interference detected!
Wikia is a free-to-use site that makes money from advertising. We have a modified experience for viewers using ad blockers

Wikia is not accessible if you've made further modifications. Remove the custom ad blocker rule(s) and the page will load as expected.