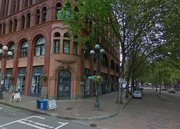 Harper Blaine's office is located in Pioneer Square at
103 Occidental Avenue South
in Seattle, WA. This building is known as the Interurban Building and is a terra cotta-colored building on the corner of Yesler Way and Occidental Avenue South.
The building has a lion head directly over the entrance that the author loves.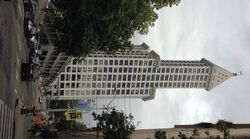 Apparently Kat Richardson would have liked to have Harper's office be located in the
Smith Tower
at 
506 2nd Avenue, but the rent was too high for Harper.
Kat Richardson explains the office location in chapter 21 of her Yodio recording of Greywalker locations in Seattle .
Ad blocker interference detected!
Wikia is a free-to-use site that makes money from advertising. We have a modified experience for viewers using ad blockers

Wikia is not accessible if you've made further modifications. Remove the custom ad blocker rule(s) and the page will load as expected.